REVIEW: Melody Diachun | Fields Of Gold: Exclusive Premiere on Tinnitist
The Canadian jazz singer takes Sting's wistful classic in a bold new direction.
By Darryl Sterdan | 2022-09-16 
Melody Diachun goes on a seductive stroll through Sting's wistful Fields Of Gold in her gorgeous new single — premiering exclusively on Tinnitist. 
A preview of the celebrated Canadian jazz vocalist's upcoming fifth album Sumner's Tales: The Music of Sting, the shimmering Fields Of Gold takes you on a sweet sonic journey in a rich sonic landscape. Over the course of six sublime minutes, the track gradually builds from a late-night piano ballad to a quietly muscular full-band jaunt, with swirling keyboards, stinging guitar work and brushed drums meshing seamlessly beneath Diachun's warm, welcoming vocals. Together, they explore and expose new layers of depth and meaning in Sting's soothing, Celtic-tinged 1993 classic. 
A talented vocalist, songwriter and performer praised for her soulful confidence, exquisite intonation, phrasing, and sense of time, Diachun has a penchant for pairing atypical material with improvising musicians. She takes a bold step with Sumner's Tales, remaining faithful to the essence of the Policesinger-bassist and songwriter's works, be they huge hits like Roxanne or B-sides like Murder By Numbers. Meanwhile, Diachun's bandmates roam free over grooves and soundscapes that run the gamut from lush to bombastic. The album features Melody's long-time collaborators: Pianist David Restivo, guitarist Michael Occhipinti, bassist Doug Stephenson and drummer Tony Ferraro. 
Other notable recordings from Diachun's catalog include EQ and Metaphora by Altered Laws, which was nominated for a Juno for Contemporary Jazz Album of the Year in 2008 and won Outstanding Jazz Album at the 2008 Western Canadian Music Awards. Melody was nominated for Female Vocalist of the Year and the 2009 Canadian National Jazz Awards and for Artist of the Year at the Kootenay Music Awards in 2018 and 2019.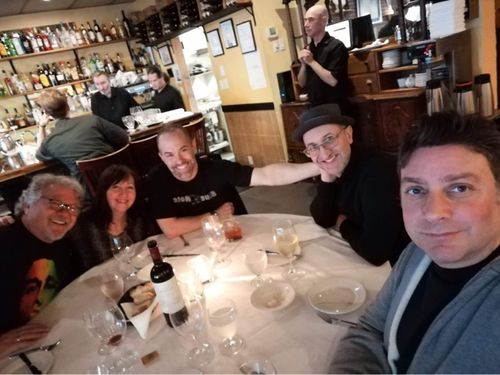 REVIEW: Singing "Russians" by Sting like it's a brand-new song 
MELODY DIACHUN'S NEW ALBUM IS ALL STING SONGS WITH A QUARTET OF PIANO-GUITAR-BASS-DRUMS 
By Lavender Sutton | October 25, 2022 
Melody Diachun, a vocalist based in Nelson, BC for the past decade, interprets one of the best living songwriters on her latest album – Sumner's Tales: The Music of Sting. 
Though Sting's raspy vocals with The Police and his hit songs – from both the band and his solo career – are well-loved and familiar, Diachun's deep-dive into the archives of Sting's songbook is admirable. 
Diachun takes on smash hits like "Fields of Gold" and "Roxanne" but also brings attention to other songs like "Murder by Numbers" and "When We Dance". 
The band that joins her is a big part of the album's appeal. They are a force to be reckoned with on each song, bringing new life to it – whether it's with a new arrangement, a new groove, or just the joy that can so often flow from Sting's music. 
The album begins with a driving rhythmic line in "King of Pain" and the clarity and richness of Diachun's voice. A solid entrance, this track has sufficient Police vibes plus an extra sprinkling of modern jazz. 
"Fields of Gold" is probably the most popular composition on the album. Diachun's arrangement doesn't stray far from the original, but by the end, there's a soulfulness that gets heightened by Michael Occhipinti's gorgeous guitar solo. 
The other most famous song is "Fragile", which lends itself brilliantly to the arrangement in 5/4 time. It feels natural, like the composition could have been written this way. It also highlights the serious heavyweights in the band; piano and guitar play off each other well, as they do on "I Burn For You". 
Diachun's voice suits the collection of songs beautifully, not sounding too much like Sting but holding dedication and love for the music. She is able to move from softly enticing in "Roxanne" to seductively grooving on "Murder by Numbers".The combination of Doug Stephenson's steady bass with Tony Ferraro's funky, percussive applications on the latter tune – leading into a wicked drum solo – is superb. 
Also worth a mention is the lesser-known song "Russians" which Diachun has thoughtfully included. The lyrics, written for Sting's debut solo album in 1985, couldn't be more relevant today. 
Overall a stellar undertaking, well worth checking out, Sting fan or not. 
Sumner's Tales: The Music of Sting – King of Pain; Fragile; Fields of Gold; Walking on the Moon; I Burn for You; Russians; Murder by Numbers; Roxanne; When We Dance; Tea in the Sahara; Consider Me Gone; Shape of My Heart. (1h6m) 
Personnel: Melody Diachun on vocals; David Restivo on piano; Michael Occhipinti on guitar; Doug Stephenson on bass; Tony Ferraro on drums.